Farrington Juniors & Fox's
Hello everyone Great news, If you have a child, grandchild, young family member or friend under the age of 18 that would like to play golf then this is for you.
With the new training room nearing completion we h ave rebranded the old Tigers group to Fox's.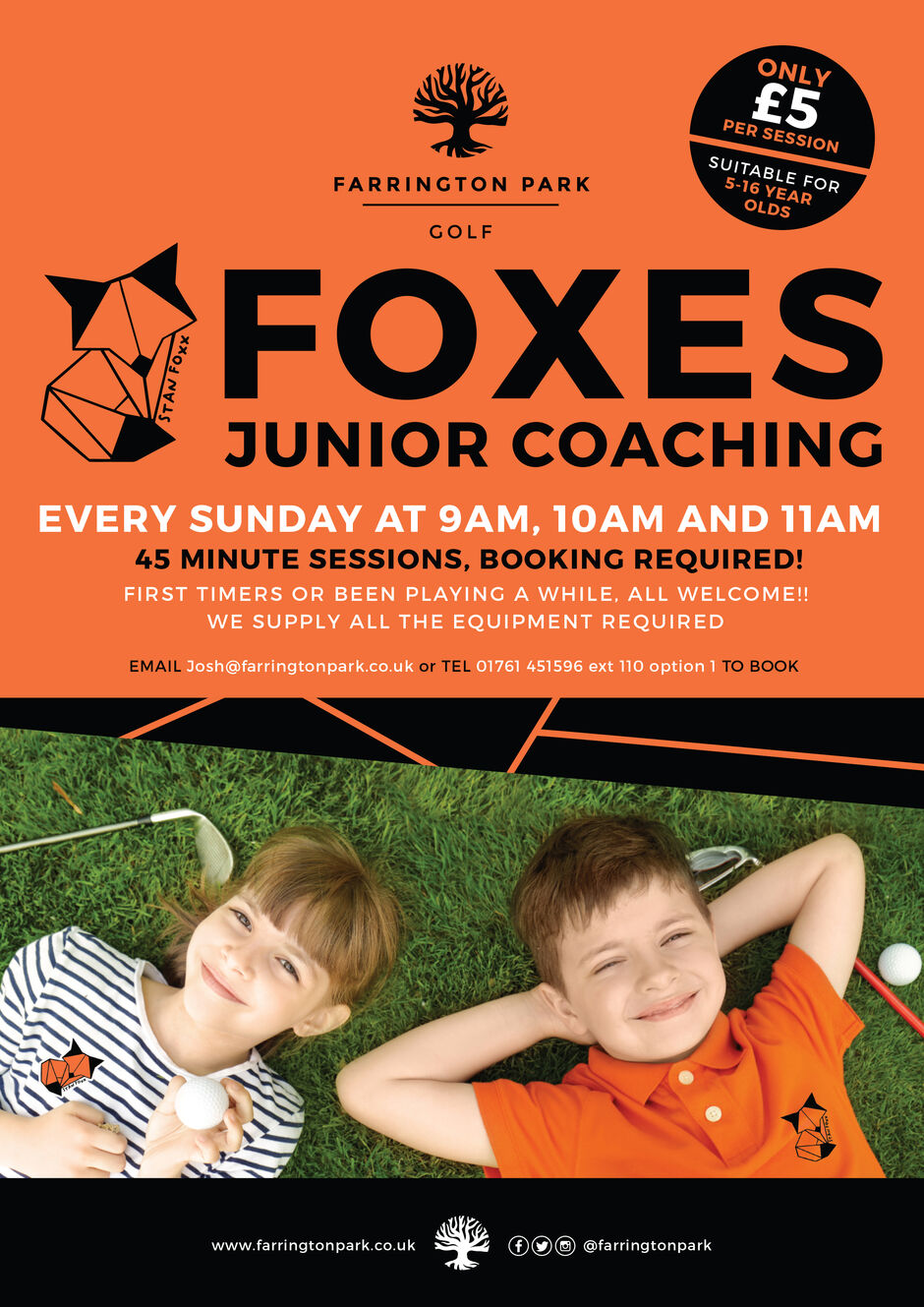 For those juniors who are willing to represent Farrington Park by playing junior inter club matches (home and away) there will be free coaching for them between 6-7pm every Monday night, starting on 25th April. In order for us to schedule this, please email juniors@farringtonpark.co.uk a week in advance if you are planning to attend.
For the aspiring youngsters who get hooked, with work and commitment they can earn a free membership on the Manor Course and progress to membership on the Duchy Course. Juniors who achieve the required handicap and play team matches (home and away) will qualify for free Duchy Course membership.
Already a Playing Junior
Then come and join us on Sunday 13th March for a pre-season game.
We will meet on the range at 1pm to hit some balls for a warm up.
We'll play 9 holes on the Manor Course.
Then have a 9 hole putting competition on the putting green, also with a nearest the pin shot from the bunker.
Sausage and chips after to finish it off, along with prize giving.
(Let me know if there are any special dietary requirements).
Please let me know if you can attend by emailing juniors@farringtonpark.co.uk
The junior section will run regular competitions on both courses for those with handicaps, as well as competitions for non handicap members on the Manor Course.
So hope you all come along and join in on Sunday 13th March, as it will be great to get outdoors, have some fresh air, exercise and golf fun.
Please email juniors@farringtonpark.co.uk to let us know if you intend to join us.
Fox's ideally suits 5 years and over, please email Matt or Josh to discuss any concerns or queries: josh@farringtonpark.co.uk
Terry / John - Junior Organisers